What is myCooper?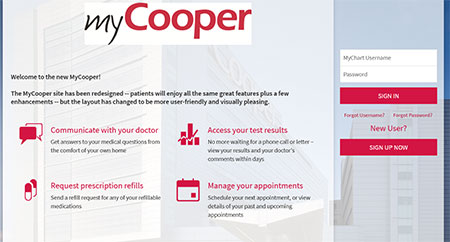 myCooper (https://my.cooperhealth.org/MyChart/) is a secure, online tool that connects you to your electronic medical record (EMR) from the privacy of your home at any time, day or night. The information is encrypted, which means it is stored in such a way that it can only be unscrambled after you enter the correct password.
Access your Cooper medical records – anywhere, anytime.
View your medical information online
Review your medications, immunizations, allergies, and medical history.
Receive the majority of your lab results from LabCorp, Quest, and Cooper online — no waiting for a phone call or letter.
Stay in touch with your physician's office staff
Communicating with your physician's office staff for non-urgent matters is as simple as sending an e-mail — but even more secure.
Request renewals of your medications online.
Manage your appointments
Request appointments online.
View details of your past and upcoming appointments.