Military Training
Please click on a training program to learn more. 
Strategic Medical Asset Readiness Training (SMART) Program
Army Medical Department Military Civilian Trauma Team Training Program
Cooper University Health Care is the first trauma center in the nation to provide advanced surgical trauma training to the U.S. Army's elite Forward Resuscitation Surgical Team (FRST).
As a high-volume, academic tertiary care Level I Trauma Center, Cooper's experience and reputation uniquely positions it to provide the hands-on training and skills this elite team needs to help them save lives on battlefields around the world.
The Army Medical Department Military Civilian Trauma Team Training Program provides opportunities for Army medical personnel to work in trauma centers with more emergency care patients than typically seen in Army hospitals. It brings highly-skilled doctors and nurses together to support patients in the region and allows our military medical professionals to maintain their expertise in support of military medical readiness.
The program is the result of a 2017 Congressional mandate aimed at advancing the Military Health System trauma readiness for deployment to combat zones around the globe by partnering with high-volume civilian trauma centers to gain critical teamwork and technical trauma skills. As the flagship site, Cooper will help develop the program, which will expand to additional sites throughout the U.S. over the next two years.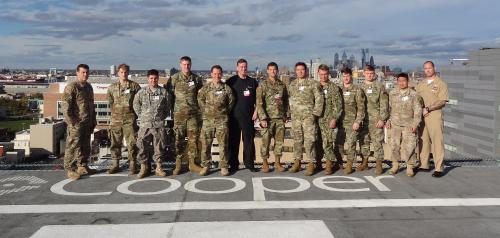 Strategic Medical Asset Readiness Training (SMART) Program
Cooper is one of three locations in the nation to provide specialized medical training to active duty and reserve personnel from all branches of the U.S. military as part of Operation SMART. The program was developed by the U.S. Army Medical Command to establish a national network of civilian health care facilities to train and build medical skill sustainment. Military personnel representing the U.S. Army and Air Force work and learn alongside medical professionals in the hospital setting. Program participants experience rotations in supply chain and logistical patient care management, emergency medicine, trauma, trauma intensive care, radiology, and laboratory technology.
Special Operations Combat Medic (SOCM) Course
Cooper University Hospital is one of only five hospitals in the nation to provide clinical training to the elite Special Operations Combat Medics (SOCM) from the U.S. Military's Special Operations Command, including: U.S. Army Special Forces and Rangers, Navy SEALS, and Marine Recon, among others.
As SOCMs serve a unique and crucial role in the field, they must possess skills needed for acute medical/trauma care for their team. Cooper provides the last stage of SOCM training – the clinical rotation – which ensures graduates have the vital skills and confidence to perform critical field work in extreme environments or circumstances until medical care arrives. SOCM's often deploy to combat zones within weeks of their training, emphasizing the importance of this hands-on experience. 
SOCM trains and qualifies selected enlisted military members to manage a multi-system trauma patient for up to 72 hours prior to medical evacuation and provide basic medical care to Special Operations team members. During the clinical rotation, students collaborate with health care professionals, observe hospital/EMS systems, and perform procedures within the SOCM Scope of Practice with preceptor/physician approval.
The high-level troops receive "front line" training for battlefield trauma as well as helping civilians.
SOCMs rotate through the following departments:
Adult and Pediatric Emergency Departments
EMS
Intensive Care Unit
Labor and Delivery
Level I Trauma Center
Mother/Infant Unit
Operating Room/Anesthesiology
Orthopaedic Trauma
Pediatric Outpatient Clinic
Military Trauma Readiness Program (MTRP)
A unique collaborative agreement between multiple Department of Defense units and Cooper to help military medical personnel maintain their trauma, emergency medicine, and critical care skill by being immersed in an intense clinical setting.
Cooper Advanced Trauma Training Course (CATTC)
An intense medical training program that concentrates on the development and honing of critical trauma resuscitation and surgical skills for physicians, physician assistants, nurse practitioners, nurses and military non-commissioned officers with a practice working knowledge of dealing with severely injured patients in any environment (combat, mass shootings, severe non-combat injuries, etc.). CATTC encourages the transfer of knowledge between military and the civilian trauma/medical community.
Advanced Surgical Skills for Exposure in Trauma (ASSET)
Cooper residents, trauma fellows, medical students, Army operating room techs, and army health providers assigned to Cooper participate in advanced surgical trauma care in the Anatomy Laboratory of Cooper Medical School of University. 
Diplomatic Training
U.S. State Department Guardian Emergency Management Specialists
A program for physicians, physician assistants, paramedics and civil service employees with dual roles as regional contingency planners and direct medical support teams from the Office of Mobile Security Deployments or the Secretary of State's Protective Detail. These very experienced health care providers come to Cooper for trauma skills sustainment training.
State Department Telemedicine Consults
Real-time physician-to-physician clinical consultation
Cooper University Hospital is the only trauma center in the country that provides hands-on training, research, and education and real-time, world-wide, situational, video and phone support and supervision to select members of our nation's diplomatic divisions and elite military units.
Through the program, the U.S. Department of Defense and the U.S. State Department send their elite military personnel to Cooper – prior to deployment – for hands-on training. When critical medical emergencies arise halfway across the world, Cooper's trauma team jumps into action and provides medical teams with real-time guidance via its telemedicine capabilities.