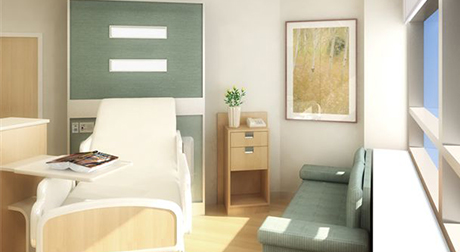 We understand that there are many places you'd rather be than in the hospital. While you are here, we will do everything to insure a positive experience, while delivering the highest quality of health care.
This Patient Information Guide explains hospital services and procedures. Should you have any additional questions, please do not hesitate to ask any member of our staff for help.
Patient Relations/ Patient Experience Advisors
Patient Relations/Patient Experience Advisors are available at 856.342.2432. to answer questions and assist with patient and visitor needs. Services include:
Advance directives and medical power of attorney
Computers with wireless access
Explanation of hospital policies and procedures
Health information material
Non-medical problems and special situations
Patient Belongings
Cooper University Health Care is not responsible for items left at your bedside and encourages you to send them home with your family or friends. If this is not possible, ask your nurse to have your valuables placed in the hospital safe. Be especially careful for personal care items such as dentures, eye glasses and hearing aids. These items can be safely and easily stored in your bedside cabinet or with Patient Relations.
Cellular Phones
To reduce the potential risk of medical equipment malfunctions, the use of cellular phones is not permitted within ten feet of critically-monitored patients. Mobile phones may be used in public areas, in offices, and at nursing stations.
Photography
To protect the privacy of our physicians, staff members, volunteers, other patients, or visitors, photographs or videotaping is not allowed without that individual's permission. Visitors, patients, and families are not allowed to take photographs in public areas of the hospital, such as the cafeteria, because such photographs are likely to include images of other individuals.
No-Smoking Policy
Cooper is a smoke-free campus and prohibits smoking within 25 feet of the campus. All of us at Cooper thank you for respecting our no-smoking policy.
Telephone and Television Service
Your family and friends can reach you by dialing a direct number located on the wall across from your bed. Incoming calls can be received between 7 a.m. and 10 p.m. There is no charge for incoming calls.
Telephone – Frequently Asked Questions
For local calls, dial 9, wait for the dial tone and dial the number. Remember, not all 856 area code calls are toll-free.
For long-distance calls, dial 8–0–area code and the number (for calls in the 856/609 area code).
For all other area codes, dial 810–area code and number.
All long-distance calls must be charged to a telephone credit card, home phone, or the call must be placed collect.
Television – Frequently Asked Questions
Your bedside control includes a pillow speaker and nursing call button.
All televisions are closed captioned for the hearing impaired, which is available by pushing the "CC" button on your remote control.
Free movies are available on channels 70 (English) and 71 (Spanish). A schedule is available upon request.
Free, on-demand health education videos available on channels 73 through 84.
A live video feed of services from the chapel is available on channel 68.
Patient Meals
At Your Request Room Service Dining® is available daily from 6:30 a.m. to 8 p.m. All orders are verified for diet compliance and prepared according to your specifications. Meals will be delivered bedside. Menus are located in patient rooms.
Placing Your order:
Select the menu items you would like to order.
Call 856.342.3333 (in-house extension 3333) for patient room-service dining.
Know your room number and building (i.e., Dorrance, Kelemen, or Roberts Pavilion).
Visitor Meals
Your family and friends are welcome to join you at meal times. Cooper offers several dining options for your guests:
Café Excellence Coffee Shop on the ground floor of the Roberts Pavilion is open 24 hours a day and offers a variety of beverages, snacks, and meals-to-go.
Cooper Court (our cafeteria) is located on the second floor of the Kelemen Building and offers breakfast, lunch, and dinner. Hours of operation are Monday through Friday, 6:30 a.m. to 10:30 a.m. and 11 a.m. to 6:30 p.m. / Saturday and Sunday, 7:30 a.m. to 10:30 a.m. and 11 a.m. to 6:30 p.m.
Interpreters and Assistance for the Hearing-Impaired
Contact our Linguistics Department at 856.342.2751. if you need the services of a language interpreter or assistance to manage a hearing impairment. We have Spanish, Vietnamese, and ASL interpreters in house, and can bring in interpreters for other languages when needed.
Gratuities
Hospital staff is here to serve you and takes pride in caring for you and your family. We request that you refrain from offering tips or gifts to individual staff members, as they are not permitted to accept gratuities. Please complete your patient satisfaction survey and describe your interaction with any outstanding staff members. Cooper acknowledges all staff members mentioned in patient satisfaction surveys.
Pastoral Care
Chaplains serve in all areas of our hospital and are available to provide support and comfort to patients and family members in times of need. Nursing staff can contact a chaplain when requested. Because Cooper recognizes patients bring with them a variety of cultural and religious backgrounds, chaplains provide spiritual care to each individual, sensitive to the patient's personal beliefs.
Our non-denominational chapel is accessible from the Roberts Pavilion lobby and is open 24 hours a day for quiet reflection and prayer. To contact Pastoral Care, call 856.342.2197.
Ethical Issues
Patients and their families who are faced with a moral issue relating to patient care have the option of having the issue brought before Cooper's Bioethics Committee through a consult. Concerns may include, but are not limited to, end-of-life care issues; ethical issues at the beginning of life; role of religion in health care; access to health services; organ transplantation; and patient rights to accept or refuse medical treatment. To request a consult, call our risk management office at 856.342-2112.
Know About Your Health Care Team
We want our patients and their caregivers to know who is providing care at the bedside. As a result, Cooper has a communication board at the foot of each patient bed which lists the health care team. In addition, the board gives our patients and caregivers a chance to tell a little bit about each patient. We hope you enjoy being part of the dialogue.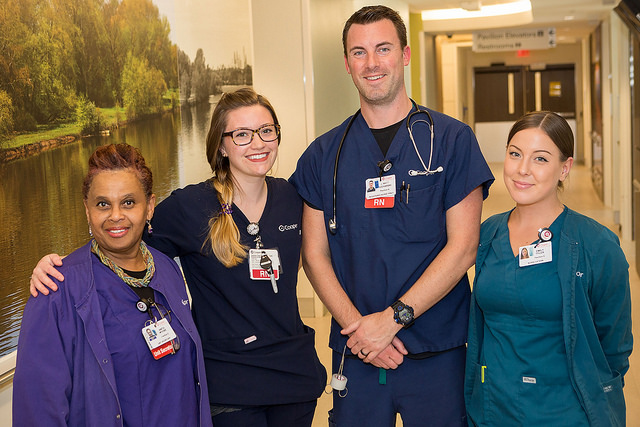 Cooper has established a color-coded scrub program. We hope this will help patients and family members easily identify the health care professionals who are providing care. Nurses, Medical Providers, Allied Health Professionals, and Unit Secretaries are each assigned specific colors for their scrubs:
Nursing (RNs and LPNs): BLUE
Medical Providers (Physicians, Residents, Fellows, Advanced Practice Nurses, and Physician Assistants): BLACK
Allied Health (All licensed and non-licensed Technicians,Technologists, Medical Assistants, Phlebotomists, Registered Dietitians, Therapists, Aides, and Nurse Associates): TEAL
Unit Secretaries: PURPLE